Christmas Closing
Our Shops and the Centre will be closed over Christmas from the 20th December until the 7th January
Christmas Closing
Our Shops and the Centre will be closed over Christmas from the 20th December until the 7th January
10 year Anniversary for Los Montesinos Shop
On 19th October 2009 the doors were opened for the first time on the Age Concern Charity Shop in Av. del Mar, Los Montesinos, so it was fitting that a celebration was held for this 10thanniversary of the grand opening. Shop manager Paula, who has worked in the shop since day one, organised a party for volunteers and customers alike. They were all treated to cava, juices, wine, canapes and nibbles and we had a couple of renditions of 'Happy birthday' sung by everyone. The highlight of the day was the cutting of the birthday cake made especially by stalwart volunteer Kath Brocklebank.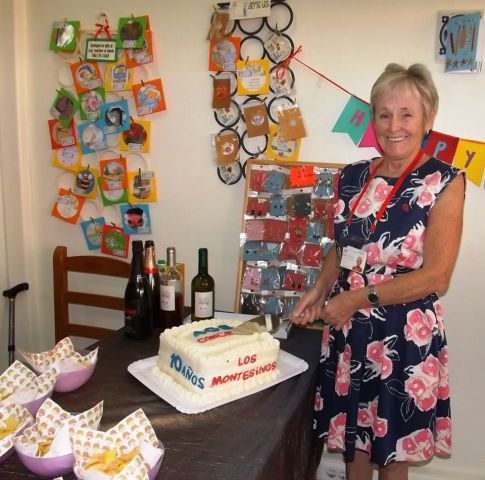 A toast was given by Paula thanking all her volunteers for their support over the years and to look forward to another10 years of service to the community and the vulnerable in the area. Customers of all nationalities frequent this shop not only for the bargains of clothing and bric-a-brac but often call in just for a chat with the happy band of volunteers when dropping off donations for sale. Being a household name, Age Concern values the efforts made from their charity shops by informing people of all the services available, selling tickets for all the social events and just being there when needed.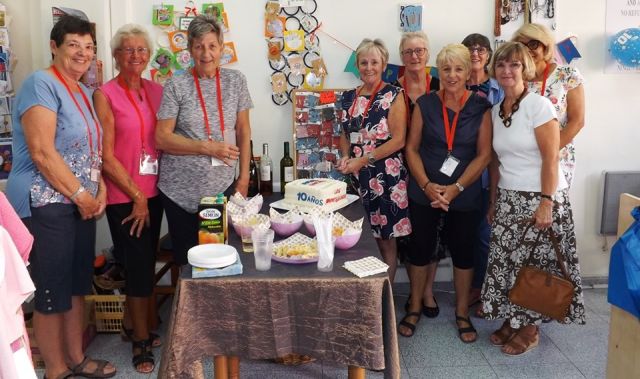 Fun Night held at Bar Carmen in aid of victims of the recent floods
What a fantastic evening we all had at our Fun Night held at Bar Carmen on Saturday.The quiz was won by friends of volunteers but it was all very close. A superb 2 course buffet prepared by the staff of the bar and then onto a hilarious session of Play Your Cards Right. The evening rounded of with a fabulous raffle with lots of prizes donated by various friends of Age Concern. We are proud to announce that the money raised on the raffle was 200 euro which is being donated to aid victims of the recent floods. See Our facebook page for more
ADIOS WILMA
On Wednesday 24th July Wilma Aitkinhead retired,after twenty one years' service as Shop Manager in our Charity Shop in Torrevieja much to the regret of Age Concern, her fabulous team of volunteers and all international customers that frequented the shop. Her volunteer team treated her to a fabulous night out at the Masa hotel and Age Concern spoilt her with an afternoon tea party at the Day Centre in La Siesta amongst many past and present volunteers. President, Maureen Payne, gave a heart warming speech and presented her with a basket of flowers and a travel voucher for 250 euros.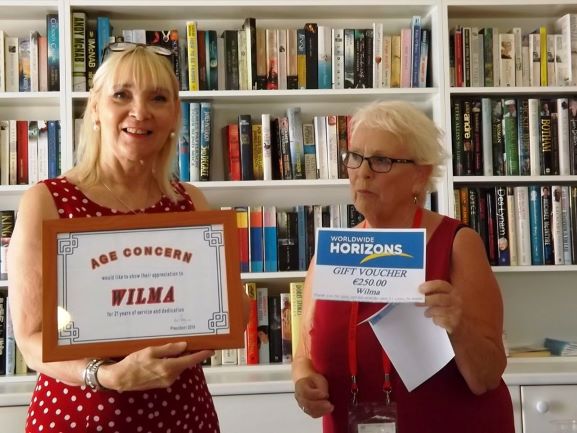 Wilma responded with grateful thanks to Age Concern for all the support given over so many years and vowed not to lose touch.
FAREWELL AND GOOD LUCK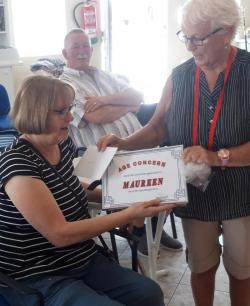 On Tuesday 2nd July Age Concern bade farewell to one of their loyal and faithful volunteers, Maureen Wakeford.
A SIZZLING SUMMER FAIR
Age Concern held their annual Summer Fair on Saturday 22nd June at their Day Centre and grounds at Calle Paganini, La Siesta.